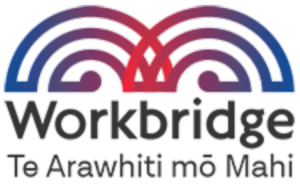 Building a bridge over
employment barriers
Need a little extra support to be your best in the workplace? We are here to help you.
We'll help you find the right job,

and support you while you're in it.
There are more than 170,000 disabled Kiwis and many others with injuries and health conditions who want to work. We provide a range of free employment support services for both job seekers and employers, individually tailored to suit every individual's needs.
Covid traffic lights won't stop Workbridge mahi
Taking control of your job search
Just say yes to disability confidence
A success worth engraving
Improved his employment fitness
We're growing the future of work
If you are going to help disabled people and others with physical and mental health conditions into work, you've got to have some understanding of the issues they face.
More than 40% of Workbridge staff have intimate knowledge of that particular journey, and our chief executive Jonathan Mosen is himself blind and hearing impaired.
We walk the talk.
Workbridge has been doing this for 90 years and offers not only a significant database of employers looking for staff but also a nationwide team of experienced consultants to support your search for a great job. They'll help you build that CV, write that cracking cover letter, and boost your job interview skills.
we have network of employers looking for people like you
our consultants are experts at helping you find the job you want
we are there to support you for the first 12 months of your employment journey
Seedling – Patrick
23-year old Patrick shares his story of finding employment with Workbridge.
When Patrick developed his condition, it required him to leave his current job to find something that would support him both physically and mentally and help with his development and recovery. Finding the right job (and not the first thing that was offered) was crucial.
Having to explain his condition to employers over and over and feeling almost unheard, Patrick turned to Workbridge for help. He was connected with Employment Consultant, David, and together they created a profile to gain a better understanding of the types of jobs Patrick was interested in and the skills and attributes he would be able to bring to his new workplace.
It wasn't long after, that Patrick was referred and successfully chosen for an Analyst position at Seedling, a small consultancy business which provides operational and financial support to social enterprises and impact businesses.
Patrick has been with Seedling since September 2020 and is the first employee to be hired by Seedling.
Being able to work from home has allowed Patrick to manage his condition. Patrick is fully supported, feels he can be open and honest with his employer and couldn't imagine being anywhere else.
Watch, listen, read and share Patrick's story.
Wellington City Council – Cameron
24-year old Cameron moved to Wellington 6 years ago to further develop his love for writing into a career. He attended Victoria University and graduated with a Bachelor of Communication Degree.
Towards finishing his degree, Cameron feared that he would struggle to find employment because of his particular desires and needs and he felt unemployable. After connecting with Workbridge, Cameron landed a role at Wellington City Council where he supports the Internal Communications team on a number of communications-related projects.
Cameron is in a job that he absolutely loves, bust most importantly, he is part of a team that supports him.
Watch, listen, read and share Cameron's story.c
Ministry of Social Development – Francesca
24-year old Francesca shares her story of finding work post-lockdown.
Since June, Francesca has been employed as a Central Processing Officer for Ministry of Social Development supporting the customer service teams which have become increasingly busy as a result of COVID-19.
Francesca is an incredibly smart, caring and determined young woman.Although she is naturally an arts person, she thrives off the challenges her new role brings.
"I like the challenge, this is something that probably wouldn't come naturally to me…you're learning new things all the time and you're helping people, I like that!" – Francesca
Watch, listen, read and share Francesca's story.
"I am just the luckiest person with my team. I have the most wonderful boss that I could ever ask for, and they all know me and know what I need and are willing to help.
"What made it easy is that I am in a company where they are all about people, and just knowing that everyone is cared for makes you feel very comfortable."
Alice, Cater Plus