A winning relationship between Workbridge, jobseeker and employer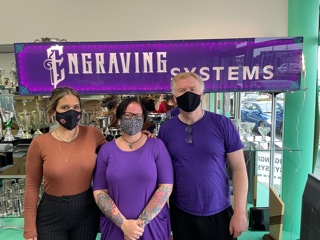 Wayne Hargis-Roycroft knows that an engraving on a cup or trophy is more than just a random name scored into silver.
It's a tangible reminder of an achievement, a recognition of the hard work that led to that success.
So when the co-owner of Engraving Systems is considering a new employee for his Whangarei business, he wants to do more than just scratch the surface of the person sitting before him.
"I look for someone who is willing to work with the team we have in place," he says.
"I know you want the work, that you are looking for work, but are you willing to do the work?"
Luckily for Wayne and his business, which he co-owns with wife Kate Hargis-Roycroft, he has developed a working relationship whose success is worthy of engraving in metal.
In an earlier role, as a production manager with Linen Master in Whangarei, he ran a team of up to 55 people.
They were long days and "we needed workers who could cope with that…it usually boils down to attitude".
Workbridge, which helps find work for disabled people and others with various barriers to employment, played a big role in helping with that, locating a couple of dozen workers for the well-known Northland business.
And that relationship has continued for Wayne in his current business, in the form of Workbridge employment consultant Christel Foster.
"I think she has a sixth sense," says Wayne. "She's just so good at it, and it's got to the point where if she brings someone in to talk to me, then I shut up and sit down and listen to them.
"Christel has taken the time to understand our culture and to put forward people who are a fit," he says.
"That is the No. 1 thing. The skills we can teach, but what we can't is the willingness to be part of our team."
Wayne has taken on a couple of Workbridge jobseekers at Engraving Systems, including one who studied late into the night to ensure she was ready for the maths test that went with the interview.
"That to me was a big sign that this person wanted the job and was willing to do it."
He'd be happy to take on more.
And just as happy to encourage other businesses to do the same.
Especially those struggling to fill vacancies because of the country's chronic skills and labour shortage.
"My only major concern is, they have to be ready, willing and able."
Once you understand that, once you go beyond the surface, success is practically written in stone.